Model M7
Spacious, versatile, beautiful, all in a mid-size premium spa.
Enjoy two first-of-their-kind Adirondack-inspired premium therapy seats, the incredible double JetPak love seat, therapeutic elevated seats, or any of several other comfortable and versatile seating options in your new M7 hot tub. With intuitive controls, simple water care, the renowned JetPak Therapy System, amazing aesthetics, and more space than you'll find in any other spa with a mid-size footprint, your M7 by Bullfrog Spas will absolutely delight.
7′ 7″ (2.31m) x 7′ 7″ (2.31m) x 37″ (.94m)
Specifications
Primary Specs
Standard Dimensions (W x L x H)
7'-7" x 7'-7" x 37"
Metric Dimensions (W x L x H)
2.31m x 2.31m x .94m
Total Seats
9
Additional Specs
Bucket Style Seats
4
Lounge Style Seats
2
Elevated Seats
3
Water Capacity (to normal fill line)
453 Gallons (1716 Liters)
566 Gallons (2143 Liters)
1000 lbs (454 kg)
Maximum Filled Weight (includes Cover)
6029 lbs (2735 kg)
EnduraFrame Construction/Full-Foam/Molded Base
Standard
EnduraFrame Construction/Full-Foam/Molded Base
Standard
M Series Spa Cover Lift
Standard
M Series Premium Spa Steps
Optional
M Series Premium Spa Cabinet
Standard
High-Performance 2-Speed Jet Pumps
2
Dedicated Circulation Pump
Standard
M Series Audio (rich surround sound, hidden in-shell speakers, sub-woofer, Bluetooth compatibility, track and volume adjustment through main control, volume adjustment through multi-function auxiliary controls)
Optional
M Series Adjustable Headrests
Standard
Simplicity™ Filtration System
Standard
Simplicity™ Flat Filter
Standard
EOS™ 03 Premium Water Care System
Standard
M Series Premium Interior LED Lighting
Standard
M Series Premium Control-activated Water Feature
Standard
M Series Premium Exterior Lighting
Standard
Exterior Drain w/ Footwell Drain Fitting
Standard
M Series JetPaks
6, Standard
M Series Premium Jets
Standard
Hidden Water Return Fittings in JetPods
Standard
Foot, Wrist, Hip, Leg, Elevated Seat Therapy Jets
18
Maximum Jets Available
270
Features and Options
FROG® @ease® for Bullfrog Spas®*
Enjoy simple safe water care with the FROG @ease system, designed specifically for your Bullfrog Spa®. Your M Series spa comes ready for a combination of easy-to-exchange @ease cartridges, the first is a mineral sanitizer and the next features on-demand SmartChlor® technology. Enjoy fresh mineral water that stays clean and clear for up to 4 weeks between cartridge exchanges. FROG @ease for Bullfrog Spas with your M Series hot tub provides a self-regulating water care experience that is easier than ever.
CloudControl 2™ Smart Device App*
Your M Series spa may also be equipped and paired with Bullfrog Spas' exclusive CloudControl 2™ smart device app. With this simple upgrade, you can control and monitor your spa from your smartphone or app-enabled device from anywhere with a wifi or cellular signal.
Convenient Control Systems
Operating your spa and fine-tuning your spa experience has never been easier or more convenient. M Series features 3 intuitive approaches to control your spa experience.
Premium Touch Screen Main Control
Control all spa functions and settings with the advanced and intuitive M Series touch screen control center. The main M Series control features a capacitive touch interface that is resistant to water interference and a thoughtful user experience that is easy to understand and simple to navigate.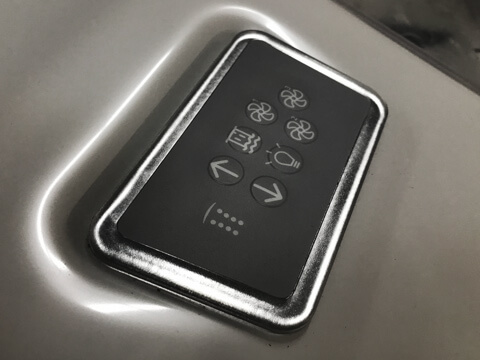 Convenient Multi-function Auxiliary Controls
In-Seat Multi-Function Control Centers​ allow you to control all jetting​, activate lighting, control push-button water features​, and regulate the volume of the M Series hidden speaker audio system, all without having to move from your favorite spa seat.
Adjustable Headrests
All premium seats with JetPaks in your M Series spa feature ultra-comfortable adjustable headrests that adjust upward to meet your head in just the right position, which is usually just above the lip of the spa for most people. No other spa features so many personalization and subtle comfort features. Sit back, relax, and experience a peaceful body, peaceful mind, and a peaceful home in your M Series hot tub.
Premium Spa Lighting
Your M Series spa features premium LED surround lighting to set the perfect mood for relaxation. Enjoy a safer and more luxurious spa experience with full-color in-spa lighting, back-lit water features, lighted headrests, and impressive exterior rim lighting for both visual appeal and safety as you approach your M Series spa.
Choose from cool blues, warm yellows or any hue in between to set the perfect mood for a tranquil soothing spa experience.
EOS™ O3 System
Bullfrog Spas EOS O3™ enhanced ozone system generates up to 2 times more O3 gas than standard ozone systems. Ozone is a powerful water sanitizer. EOS eliminates 99.9% of microorganisms without any harmful residual ozone gas.
EOS, standard on all M Series spa models, requires almost zero maintenance and provides a powerful and automated secondary sanitation system that brings added peace of mind as it makes spa ownership even easier.
Easy and Effective Water Care Systems
Spa ownership and water care have never been so simple. M Series hot tubs feature a package of standard and optional water care features that make owning your spa super easy, safe, and enjoyable.
Simplicity™ Filtration System
Your M Series spa features the all-new Simplicity Filtration System. Featuring dual intakes for more effective skimming, an in-wall design that saves an incredible amount of space for seating, and an industry-first flat filter. Simplicity flat filters offer a plastic-free design and hydrodynamics that use 100% of the available filtration media for improved performance. In addition, you'll absolutely love the convenience and cost savings that come with this simple approach to spa water filtration.
In addition, the Simplicity Filtration System also features a dedicated filtration pump that circulates water more often, more efficiently, and more quietly for worry-free and ultra-effective filtration around the clock.
EnduraFrame™ Construction
Bullfrog Spas is the leader in 100% wood-free spa construction technology. The proprietary and patented EnduraFrame™ spa support structure means your Bullfrog Spa is engineered to last. With no wood to rot or warp and a highly engineered structure that fits together perfectly you can be assured that your spa will be dependable and long-lasting.
You get a precision engineered support structure that will last for years to come.
Stunning Design
M Series hot tubs by Bullfrog Spas are designed to be beautiful and comfortable. The sleek design enhances the ambience of your yard and compliments your home and decor. Ergonomic layouts ensure each seat offers you a unique bio-engieered massage sensation. You will be proud to show your Bullfrog Spa as a centerpiece of your backyard landscape design.
The M Series CloudControl 2 wifi module with app enables remote notification and control of your spa via mobile device.
• The advanced home transmitter radio frequency module is easy to set up, simply connecting to your router via ethernet.
• A free mobile app provides connection stability, intuitive setup, and Alexa and Google Home integration, so you can change spa settings from anywhere with a wifi or cellular signal.
• With built-in smart sensors on your M Series cover, you can receive push notifications when your spa cover has been removed for added safety and peace of mind.
JetPak Therapy System®
Your M Series spa features the patented JetPak Therapy System®. This unique and proprietary technology provides you with your choice of up to 16 different massages. A Series spas feature a unique JetPak® of your choice in each premium seat. By selecting your JetPaks and placing them in the spa seats you like, you decide exactly how you want your spa experience to feel.
This ultra-efficient plumbing technology eliminates up to 90% of the piping and joints used in conventional hot tubs while providing better performance and customization options you just can't get in any other spa.
Colors
Cinder / Solitude
Cinder / Stone
Whitewash / Solitude
Whitewash / Stone
Orchard / Solitude
Orchard / Oxidium
Timber / Solitude
Timber / Oxidium